Purpose: This can be used for cycle counting of high value and/or fast moving items as well as full stock counts.
The printed stock sheets should be issued as a control document.
Preparation:
Prior to stock take; Decide and document criteria for stock taking – including scope, locations, personnel.
Prepare detailed instructions and timetable, brief personnel & arrange for 3rd party observers to attend as appropriate.
Design and communicate document controls around stock sheet issue and collection and data processing.
During stocktaking; Exclude any supplier deliveries received after the cut-off date & time.
Record all stock at all locations. Record any items not on the system on blank stock sheets.
After stocktaking; Ensure all stock sheets returned and all Nominal and Stock records correctly and completely updated.
Processing:
On the main menu click Stock > Standard Reports > Stock Count List to open form
or; click Report Control Button – Stock > Stock Count List to open form.
Populate form as required – see Stock Control – Stock Count List form below.
Select printer – see Printing Reports.
Click OK to print/display/export to selected file type.
Close form.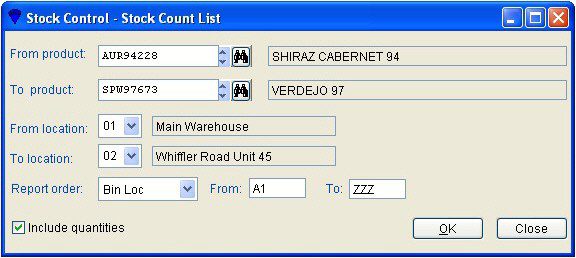 Report Order: Click on down arrow and click on either Category or Bin Loc(ation) to report in a selected order, starting and ending with the codes entered in the From and To fields.
Include quantities: Check to include stock quantities on form – can be useful to checkers particularly where pack quantities are involved.
Click OK to print sheets or Close to abandon.