SOP – Active Order (Current or Completed) Enquiry And Action
Processing:
On the main menu, click Orders > Customers > Enquiries.
Current Orders – to open form to select a Current Order, or;
Completed Orders – to open form to select a Completed Order, or;
Cancelled Orders – to open form to select a Cancelled Order.
Select the required order – see Amend Sales Orders, for example, for how to identify a specific order. Once selected, click OK to open the form.
Review order details – see Sales Order Enquiry form – below
For current orders, you can also use the toolbar shortcut button – See Configure Toolbar.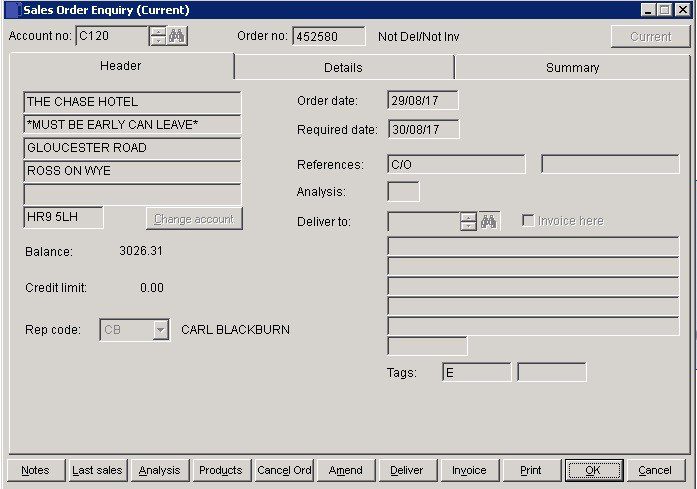 Current: Click on button to change to Completed or Cancelled.
Content of forms – each tab – as in Enter Sales Order.
This form also allows you complete various tasks once you have viewed it – Cancel, Amend, Deliver, Invoice, Print as well as being able to View.
Analysis: Displays this period (TP) and YTD (TD) sales quantities and amounts by product for this customer.
Click OK to move on to Details tab and Summary tab – see Enter Sales Order.