Cash Book – Post Nominal Bank Receipts
Purpose:
On aregular basis obtain details from Bank Statements. These could be bank interest, grants, share issue and other proceeds which are not received from customers. V.A.T. Refunds are processed separately – See Process V.A.T. Refunds.
Preparation:
Obtain an up-to-date nominal code list – see List Chart of Accounts.
Processing:
On the Main Menu Click Daybooks > Cash Book > Receipts > Nominal Ledger.
Process receipt- see below.
Click OK to update.
Balancing/Reconciliation:
See Bank Reconciliation.
Reporting:
As required – see List Cash Book Transactions.
Filing:
File supporting documents in reference number order by period.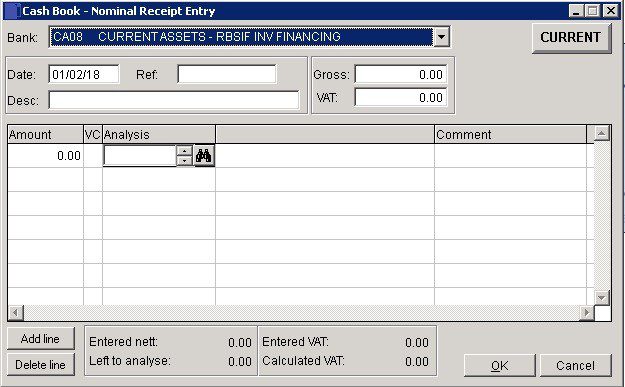 Bank: Select the account into which you will bank the receipt or have received the amount into.
Date: Either: manual entry formatted as DD/MM/YY. Type over the parts of the date you wish to change – the system will skip over the "/" part itself. If the date you enter is invalid; the cursor will return to the start of the date and await a valid entry, or; click on the field to highlight data – white on a blue background – then right click to open the Calendar Menu – see Dates and Calendar.
Reference: 10 Characters,
Description: 30 Characters.
Enter Gross amount and check VAT value. Enter amounts in grid to total Nett amount – Entered VAT must agree to Calculated VAT and Left to analyse must equate to nil before saving.
Add Line – highlight line above where you wish to insert and click on button.
Delete Line – highlight line to delete and click on button.
Click OK to post to ledgers or Cancel to abandon .