Demonstration version
When you start the software for the first time – and every subsequent time until the licence is activated – it will open in demonstration mode.
You have up to three months use of the software before you must activate the licence.
If you fail to activate the licence within three months the software will not run and you must contact your Prelude supplier to activate it.
Your data will not be affected. You simply will not be able to run the software.
Also, some functions are disabled in demonstration mode – e.g. Data Cleardown and Year-End procedures.
The software licence must be activated to enjoy full functionality and continuing use.
Activation
When you bought your software licence, your Prelude supplier would have asked you for the name you wish to use as the registration name of the software to be licensed and in return would have issued you with a licence number, number of users and activation key.
This is important information and should be kept safe as it is proof of your purchase of a licence to use the software and must be entered in the software to activate the licence.
From the menu click Help > Activation to open the activation form. Type the information into the relevant fields exactly as supplied to you by your Prelude supplier and click OK.
If you have entered the details correctly, the software will validate this and prompt you to restart the program- see Activation Form- below
You should contact your Prelude supplier if this fails or if you have lost this information.
See End-User Licence Agreement for the full terms & conditions. Please seehttps://help.prelude.software/knowledge-base/end-user-licence-agreement/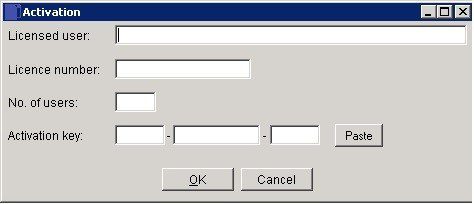 Enter the details exactly as they appear on your licence confirmation.
No of Users: This controls the number of users that may run the software concurrently – i.e. at the same time.
– If your licence is for unlimited use, you should enter '0'.
Activation Key: This is the unique code which determines the functionality available to you under your licence.