Sales Ledger – Repeat Invoices
Purpose: To produce invoice templates for regular use and to schedule their production.
Preparation: Determine which invoice you want to make invoice templates for and have a copy in front of you to create the template. Also establish how often you you need to produce the invoice. You will also need to name each template – please think about this so you can find them easily in the future.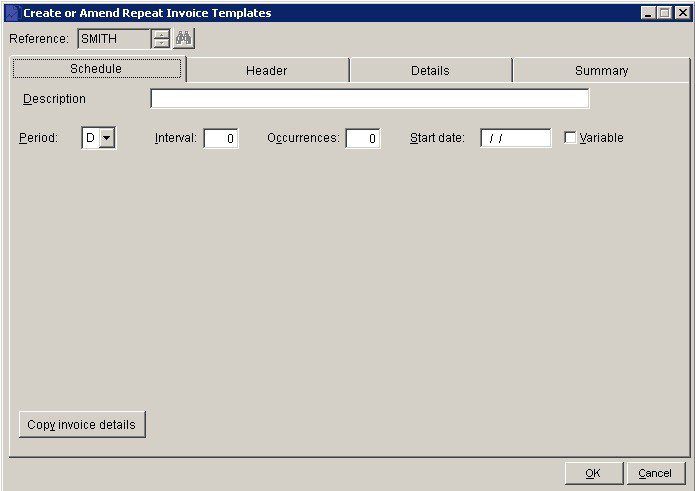 Processing: Go to main menu – Daybooks> Sales> Repeat Invoices .The menu has three options –
Enter or Amend – See above – The repeat invoice has four tabs. The Header, Details and Summary tabs are exactly the same as for Produce Sales Invoice – detailed in a previous article. We need only deal with the Schedule tab here.
Reference: Give the template a memorable description – up to 8 characters.
Period: Either Daily or Monthly.
Interval: How many days or months beween each invoice – you could set up annual invoices with an interval of 12.
Occurences: How many times you want to run the invoice – if indefinite just enter a high number. It's usual to enter a number up to the next review date.
Start Date: Date of first or next invoice.
Variable: Tick the checkbox if the dates are to be variable so they can be amended when produced.
Copy invoice details: Use this to create similar templates.
List –
Simply produces a list of templates –

Run –
Opens the Select Output Form then the Run Repeat Invoices form –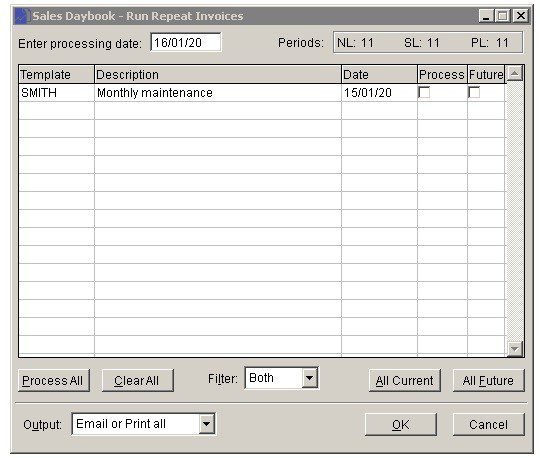 Enter the processing date – any invoice templates due that haven't been run will appear for you to select. Future ones can also be printed – use with care. Use the various buttons and check boxes to list the repeat invoices you want to run. Filter will allow you to choose between All, Fixed or Variable.
Output: Then choose whether you want to email or print or both.