POP – Purchase Orders By Product Or Location
Purpose:
Use this report to help determine the turnover of specific stock items. The two reports use the same form with different headers i.e the same data but in different order. The location option may be useful if there is more than one location for a product for a specific reason or sub category e.g. same product different colour. See report example below for one use by location.
Processing:
On the main menu click Orders > Suppliers > Reports > Orders by Product or Orders by Bin Location, or click Report Control button – P.O.P – Click Orders by Product or Orders by Bin Location button to open form.
Select printer – see Printing Reports.
Populate form as required – see Purchase Order Processing – Orders by Product or Orders by Bin Location form -below.
Click OK to print/display/export to selected file type.
Close form.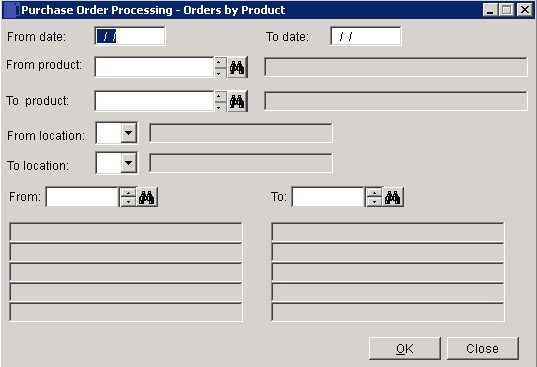 Select Dates, Products, Locations and Suppliers you wish to appear in the report.
Date: Either: manual entry formatted as DD/MM/YY. Type over the parts of the date you wish to change – the system will skip over the "/" part itself. If the date you enter is invalid; the cursor will return to the start of the date and await a valid entry, or; click on the field to highlight data – white on a blue background – then right click to open the Calendar Menu – see Dates and Calendar.
Click OK to print or export the report or Close to abandon.