Products – Add And Edit Products And Services
Purpose:
Create new records or edit product records when product prices and standard costs change.
Products are physical goods sold.
Services are charges for time spent, work done etc.
The system uses the same form to update both products and services. The process will be illustrated with products.
Preparation:
Obtain a recent print of the existing Products and Services – see Print Product Details.
Obtain the proposed selling price and standard cost of the product or service and details of any preferred supplier.
Processing:
On the main menu click Products > Create/Amend Products – see Product File – Product Maintenance form below.
To create a new product or service – type in a new Product/Service Code, then select an existing product to copy if required.
To amend an existing Product or Service – find the required Product/Service code and then amend data as required.
Complete the form.
OK to update records.
Reporting:
Print a revised list of Products & Services – see Print Product Details.
Log any changes to Standard Costs or Selling Prices in the Notes attached to the products or services concerned.
Filing:
File source documents and cross reference to relevant products and services.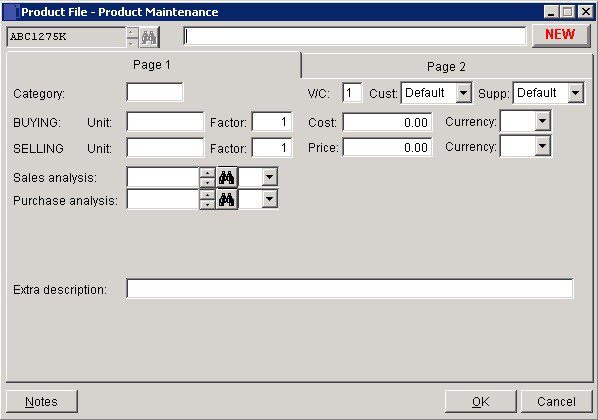 To open the form create the Product code and click OK.
Enter the Description and as much other detail as possible.
VAT Code: Enter default VAT code to be used on sales invoices/credit notes when selecting the product.
Factor: Allows matching of the cost of individual items bought in lots with the selling price of those items sold individually to report profit margins.
For example: Wine is bought in cases containing 12 bottles – £60 per case.
The same wine is sold in individual bottles – £8 each.
Enter a Buying Factor of 12 and a Selling Factor of 1 for this product.
Each bottle sold will show a selling price of £8 (£8/1) and a cost price of £5 (£60/12) on a margin report.
Select Nominal and Cost Centre Codes for Sales and Purchase analyses.
Add Notes if appropriate. Entries will make a NOTES flag visible whenever the product is selected.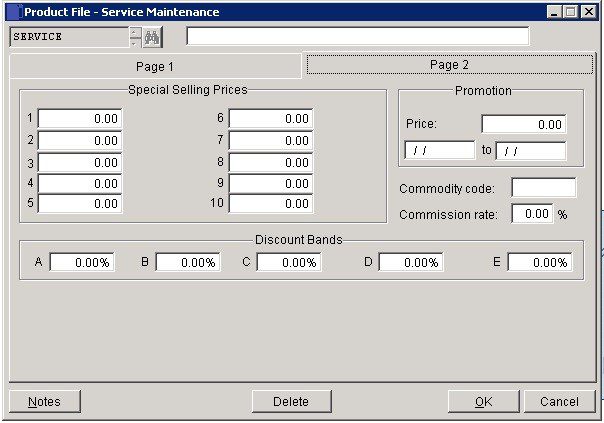 Enter any Special prices, Promotional Prices and Discounts as required.
Special Prices can be linked to customer accounts and will then become the default selling price to that customer.
Enter Start and End dates for promotional offers.
Discounts can also be made customer specific.
If Rep commission is payable enter the appropriate rate.
Click on OK to save or Cancel to abandon.