Sales Ledger – Aged Debtors Report
Purpose:
Print at least monthly as part of End of Period routines before closing the Sales Ledger period.
In order to operate your business, you will incur expenses – both in the form of cash payments (e.g. payroll) and given third parties undertakings that you will pay them cash at some time in the future in exchange for them supplying goods and/or services to you now (e.g. stock bought on credit, loans for equipment). When you sell goods and services to your customers on credit, you are, in effect, investing the cash you have committed to pay to suppliers and staff in that sale. You have created an asset in the form of a trade debt. It follows, then, that the settlement of these debts is very important – to use a well-worked phrase 'Sales are Vanity, but Cash in the Bank is Certainty'.
Managing trade debts is a balancing act – you want to convert them into cash as soon as possible without alienating your customers in the process by being overly aggressive in your debt collection. On the other hand, not offering trade credit to your customers deprives you of additional sales opportunities.
The system helps you to manage trade debtors by reporting amounts owed to you by their age relative to their due date for payment. In this way, you will be able to see which debts are the oldest and target your collection effort accordingly.
Consider exporting report to csv or excel and formatting – if needing to print use the best size font to reduce paper without making the report unreadable.
Preparation:
Match as many transactions as possible prior to producing this report. This will give a clearer picture of amounts due from customers – see Match Sales or Purchase Ledger Transactions.
Processing:
Either: On the main menu click Ledgers > Sales > Reports > Aged Debtors, or Click At-a-Glance Control button – Debtors Figure
Listing button – opens printer output selection box – see Printing Reports, or click Reports Control button – Sales Page – Aged Debtors.
Select parameters required – see Aged Debtors Report form below.
Select printer – see Printing Reports.
Click OK to print/display/export to selected file type.
Close form.
Balancing/Reconciliation:
Sense check odd looking amounts. Export to Excel, then sort balance column by value to better show credit balances and large amounts.
Reporting:
Auditors may require additional copies at year end – usually in electronic format – Excel or .pdf
Filing:
File .pdf or excel copy in a month end reports folder in a backed up directory.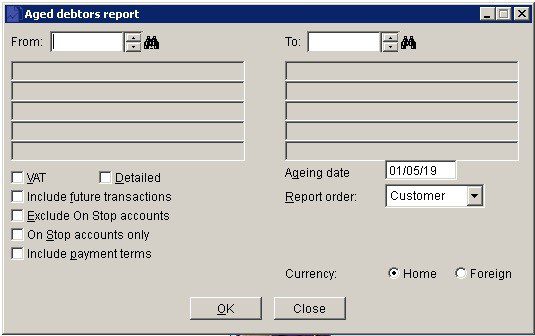 Report Options:
Select range or even print single account.
Include VAT amounts on report. – Use for VAT control account reconciliation – see FAQ – How Do I Reconcile my VAT Account
Print summary (list of balances) or detailed (all transactions outstanding).
Include future transactions for up to date picture.
Exclude on stop accounts – to create list separate from…
List 'on stop' customers and balances only – useful credit control action list.
Include payment terms – particularly where these are variable – export to Excel and sort for chasing.
Select Ageing Date – Uses accounting date as basis.
Report Order: Customer or analysis code.
Currency option produces separate reports – showing sterling or currency values.
Click 'OK' to print or 'Close' not to print.