Purpose:
To post suppliers bank payments and allocate against invoices and credit notes.
Processing:
Click on Suppliers > Payment.
Opens the Select Supplier form – see Edit Supplier to view form.
Select the supplier from the dropdown box or the cloud.
The supplier payment form opens.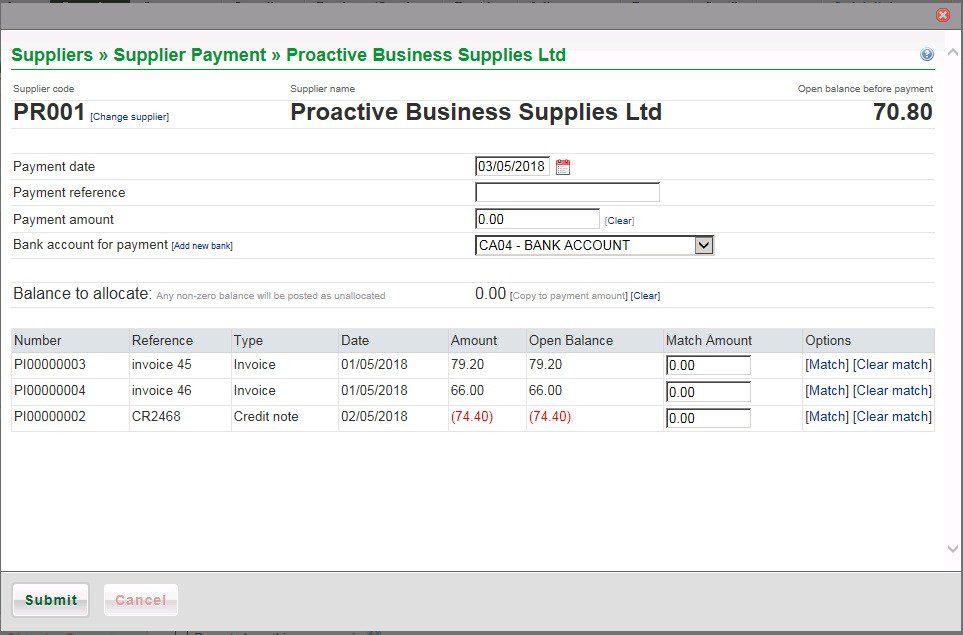 Enter Payment date – see Datepicker.
Enter Reference – Cheque number or Statement payment reference.
Enter Payment amount and select Bank account.
Match invoices and credit notes cleared by payment – click on match on each relevant line – use Clear match if you make an error. Enter the amount in the match amount column if the invoice is short paid. Match to receipt if appropriate – overpayment or duplicate payment.
Continue until Balance to allocate is nil or a figure that can't be allocated – e.g an overpayment. If account has no transactions then the total amount is unallocated – i.e. no matches are made and all that needs to be done is to click on Submit.
When matching done click on Submit to post cash to ledgers or Cancel to abandon.