Sales Ledger – Import Delivery Addresses
Purpose:
Your Prelude Desktop product includes a powerful utility that allows users to update large numbers of standing data fields in Product Files or Sales and Purchase Ledgers by automatically importing selected data from an external CSV (Comma Separated Value) file. Up to 40 data fields can be imported at any one time. See also – Input Your Opening Data.
Use this to transfer customer standing data from another system or from a created spread-sheet into a company set up in your product. Data transferred from an external file is known as Source Data. Source Data is imported into Target fields in your product.
The process of selecting both Source and Target is known as Mapping. Source Data is mapped to Target Fields.
Preparation:
First time use – refer to Tables, Records, Forms and Fields.
Ensure any data changes have been notified to and agreed with Sales and/or Production Management.
Ensure all other users are off the system.
Processing:
On the main menu click Ledgers > Sales > CSV Import (second one) – see Delivery addresses CSV Import form below.
Using the drop down boxes, select Source Data and Target fields.
Preview the data selected.
Correct any selected mappings, and preview data.
Click OK to import data.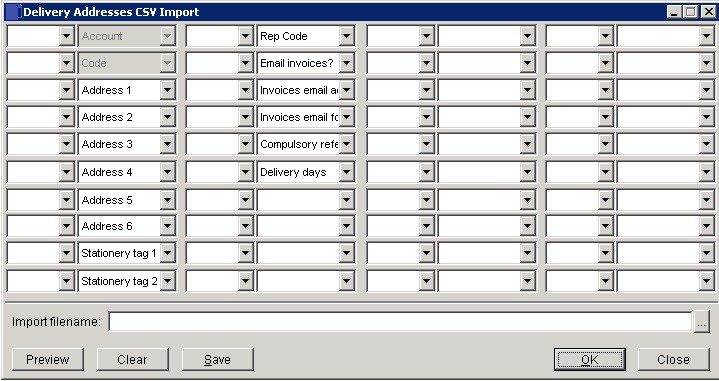 Account – up to 8 characters
Code – up to 8 characters
5 address Lines – 60 characters
1 address line – use as postcode
2 Stationery tags – 5 characters
Rep Code – 3 characters- check they exist in file
Email Invoices – 0/1 = No/Yes
Invoice Email address – 60 characters
Invoice email format – either PDF, XLS, TIF, RTF, HTM, DOC
Compulsory Ref – For tags – 0/1 = No/Yes
Delivery Days – Choose from SMTWTFS – if days not required input '-'. Monday, Tuesday and Thursday would be
'-MT-T–'