Purpose:
The report is in product by category by location order and lists for each stock item, balance brought forward, Receipts, Issues and balance carried forward.
Processing:
On the main menu click Stock > Standard Reports > Stock Summary to open form or click Report Control Button – Stock > Stock Summary to open form.
Populate form as required – see Stock Control – Stock Summary form – below
Select printer – see Printing Reports.
Click OK to print/display/export to selected file type.
Close form.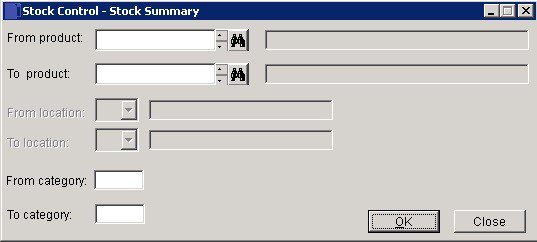 Select the various ranges to print the transactions you need.
Click OK to print or export report or Close to abandon.