Sales Ledger – View Transaction History
Purpose:
Use this facility to see a detailed history of sales activity which can be filtered by combinations of individual Customer Code, Product Code or Reference and drills down into individual invoice details. This can be useful when reviewing a customer account (e.g. credit limit) or negotiating a new contract.
Preparation:
Consider connecting to the internet to access customer websites for any news or updated financial information.
Processing:
On the main menu click Ledgers > Sales > History Enquiry – see Sales History Enquiry form below.
Form will open with a full listing of all sales transactions.
Enter Account, Reference, Product details as necessary to filter the display.
Click a record in the top grid to display that transaction's details in the bottom grid.
Print transaction details if required.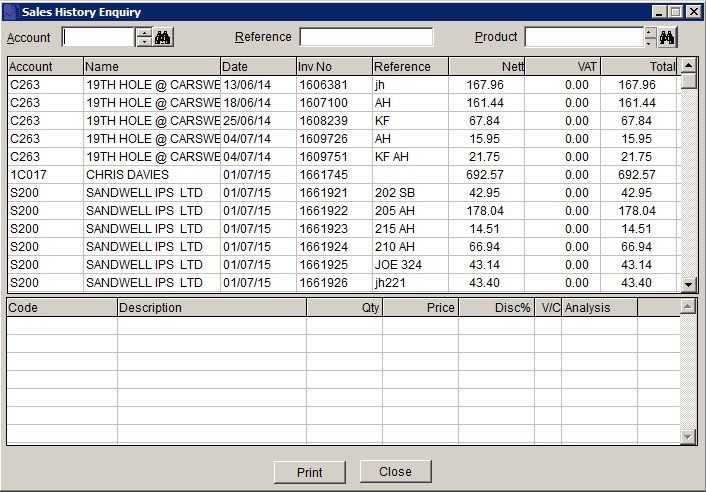 Account & Product: Either: Click on up and down arrows to scroll through list, and click OK or press Return when required selection is displayed, or: Search for required code.
Header Grid: Displays header details of the transactions selected by the above filter criteria.
Details Grid: Click on one of the transactions in the Header Display Grid to display the details of that transaction.
Print: Print selected transaction details.