Getting Started – Desktop Products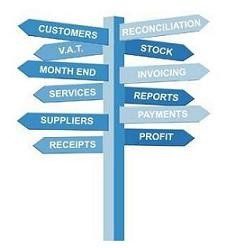 Thank you for investing in Prelude desktop accounting software for your business.
As a business owner and manager, you have already made a significant investment – and taken a significant commercial risk – in runnning your own business and the software that you use to help you manage your business should be considered in the same way.
Software should deliver measurable benefits to your business to justify the investment you have made.
These benefits may be directly measurable in monetary terms – e.g. reduced stationery & postage costs through integrated stationery design and increased use of email, efficient stock levels as a result of improved supply chain management, better credit control. They may also be intangible and more difficult to measure precisely in monetary terms – e.g. reduced time absorbed by routine data processing, which can then be devoted to managing and growing your business.
To ensure you get the best from our software, we encourage you to read and be comfortable that you understand the topics in the introductory sections of this help file. Article names are highlighted in bold and links to some of these articles are presented within the current article. The Essential Reading article will give you a general introduction to the software, its installation, structure & navigation and data entry as well as some general introduction to business financial management.
Set Up Your Company, other Set Up requirements and Input Your Opening Data articles to help you through the key tasks required to prepare the software to be used for your business.
Read the Design Your Stationery sections to see how you can use this valuable tool to tailor document designs to your business and introduce significant time and cost savings as your documents can be printed to plain paper instead of more expensive pre-printed stationery and conveniently emailed and stored in the software to review or reprint if necessary at a later time.
Then in FAQ we address some common business configuration issues and signpost the main topics and tasks you will need to be familiar with in your software.
For Prelude Desktop products see Getting Help to see how to use this Help file.
This help file is designed to be as clear and helpful as possible in order to enable you to help yourself as much as possible in the day-to-day use of the software.
Please let us know if you identify areas where you think it can be improved.