Create And Edit Cost Centres
Purpose:
If there is a need to identify costs and expenses by department, division, product or even by personnel you can add a two digit cost centre code to the nominal analysis. What analysis you require beyond the analysis code can be provided by the cost centre code – if you need assistance contact your Prelude Desktop supplier or your accountant.
Preparation:
Decide what analysis you want and prepare a list of suitable codes.
Enable 'Use Cost Centres' in Nominal Ledger & CashBook parameters.
Process:
Open Ledgers > Nominal Ledger > Cost Centres.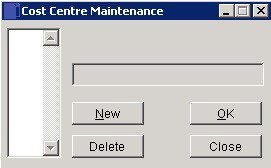 Click on New, the code field will appear enter the two digit code then enter the name in the field underneath and click OK
Click on New again and continue until all cost centres are in. It is usual to have a default (possibly 00) to pick up items not requiring analysis or for analysing later. If analysing departmental costs any balance sheet analysis will use the default.
You can amend at any time – but only delete if there no transactions posted to that cost centre.