Stock – Re-Order Report (Stock Below Minimum Levels)
Purpose:
Use this report to review stock levels and generate an action list for purchasing. The report lists, using the stock line standing data, Free Stock, Reorder Level, Minimum Stock, Quantity on Order and required Order Quantity by Stock Line for each supplier selected.
Processing:
On the Main Menu Click Stock > Standard Reports > Reorder Report , or; Click Report Control Button – Stock > Reorder Report to open form.
Populate form as required – see Stock Control – Reorder Report form – below
Select printer – see Printing Reports.
Click OK to print/display/export to selected file type.
Close form.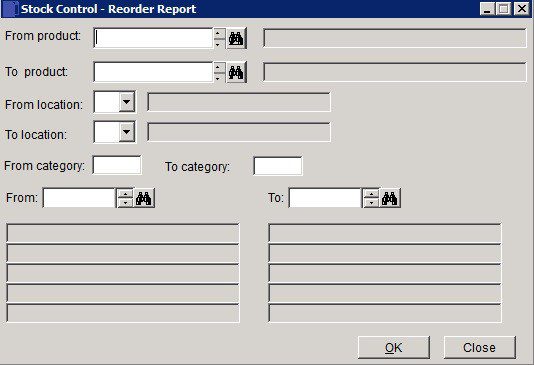 Use the various selections to identify the products you need to re-order. Leave all blank in order to print everything.
The report will look at all stock items where the stock is at or below the minimum stock level – these levels must be completed in Stock maintenance in order for this report to be meaningful.
You may select a range of suppliers as well, if you wish.
Click OK to run or export report or Close to abandon.