SOP – Aged Current (Outstanding) Quotes Report
Purpose:
Use this to identify quotes that have not yet been converted into orders. The ageing will help a user decide whether these can be deleted or are still viable.
The report ages the orders according to the Customer Required Date and displays orders by customer grouped into current (i.e. due now) and successively earlier periods 1,2 & 3. Despatch date is calculated as Customer Required Date less the delivery lead time set in Sales Order Parameters.
Processing:
On the main menu click Orders > Customers> Quotations >Reports > Aged Quotations.
Select printer – see Printing Reports.
Populate form as required – see Sales Order Processing – Aged Quotations form – below.
Click OK to print/display/export to selected file type.
Close form.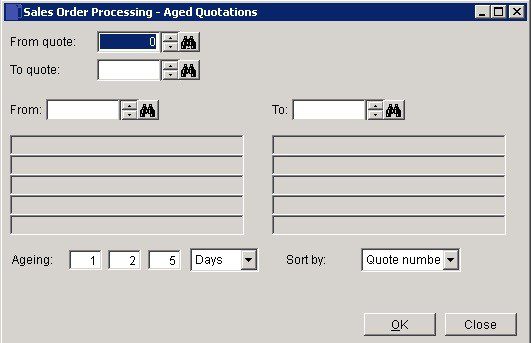 Select a range of Quotes and Customers
Ageing: The ageing of an order is based on the amount of time that has passed between the Transaction's Entry Date and the Default Transaction Date.
This then applies to all three periods. Each period may then have its own amount of time which does not have to be a multiple of any other period but must be greater than the prior period and less than the next. The periods are numbered 1 through 3 starting from the left.
Orders are reported as being current, i.e. less old than period 1, equal to or older than period 1 and younger than period 2, equal to or older than period 2 and younger than period 3, and equal to or older than period 3.
Choose Days or Months from dropdown.
Sort by: Quote or Account Number.