POP – Orders Received But Not Invoiced Report
Purpose:
Use this to chase long overdue supplier invoices. Report shows for each product – Order Number, Supplier, Quantity Ordered, Quantity Received and Total Cost.
The system will also allow users to accrue for GRNI by printing a list of Uninvoiced Stock Receipts summarised by Nominal Ledger Code – see Print Uninvoiced Stock Analysis – next article. That is, This report lists GRNI by order whereas the Uninvoiced Stock Report is by Stock items and Nominal Code.
Processing:
On the main menu click Orders > Supplier > Reports > Uninvoiced Stock Receipts; or: Report Button – P.O.P Page – click Uninvoiced Stock Receipts to open form.
Select printer – see Printing Reports.
Click OK to confirm selection and open form.
Complete form details– see Purchase Order Processing – Orders Received but Not Invoiced form- below.
Click OK to print or export report and Close to abandon.
Filing:
Any source documents retained to be cross–referenced to order and dated.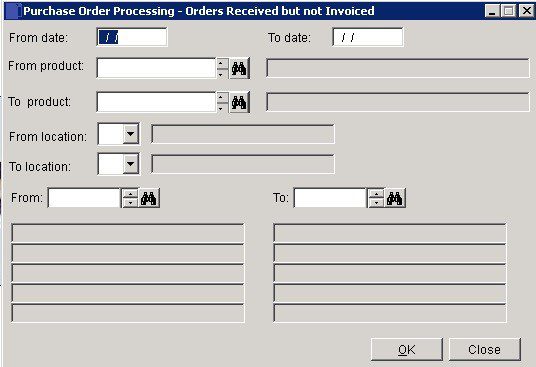 Select Date, Product, Location and Supplier ranges to report on.
Dates: Either: manual entry formatted as DD/MM/YY. Type over the parts of the date you wish to change – the system will skip over the "/" part itself. If the date you enter is invalid; the cursor will return to the start of the date and await a valid entry, or; click on the field to highlight data – white on a blue background – then right click to open the Calendar Menu – see Dates and Calendar.
Click OK to print or export report or Close to abandon.