You must enter your Company details – name, address, telephone, web site etc.
These can then be displayed on business documents – invoices, statements etc. – and reports.
On main menu View > Parameters > General and enter details in the Company Details tab. Other tabs will be dealt with
later in the Parameters section.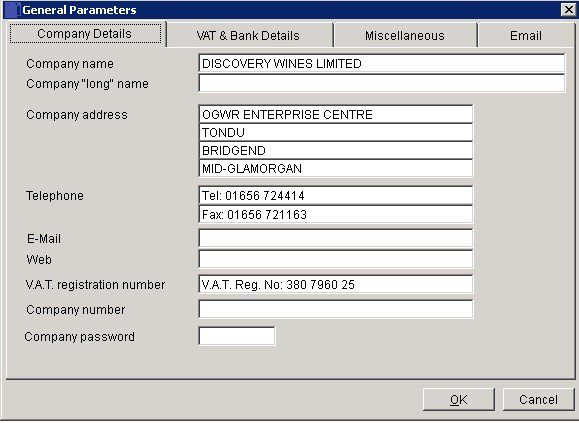 Name: Up to 40 characters for 'Usual' Name.
Long Name: Up to 80 characters for full registered name.
Full Address to show on invoices etc.
2 Lines for Telephone, Fax or Mobile numbers.
Email: Your Company's General Email address – may be info@ or enquiries@
Web: Your Company's Web Site address.
VAT: If an exporter, put GB in front of number.
Enter your Company Registration number.
If required enter password here and store in safe place -Max 8 characters – will encrypt. This will be asked for whenever you open the company. See also Set Passwords to Control Security.
Click 'OK' to save or 'Cancel' to clear and close without saving .