Sales Ledger – Account Transactions Report (Ledger Cards)
Purpose: A useful process to review any number of sales ledger accounts without having to go into each and without having to produce statements.
Can also be send to customers to assist with their reconciliations when looking over a period of time. Can be exported to Excel and sorted or trimmed as necessary.
Processing: On the main menu click Ledgers > Sales > Reports > Ledger Cards, or click Reports Control button – Sales Page – Ledger Cards.
Select report parameters – see Sales Ledger Cards form below.
Select printer – see Printing Reports.
Click OK to print/display/export to selected file type.
Close form.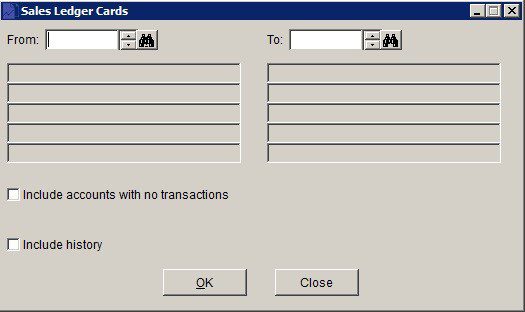 Include accounts with no transactions: Check to show accounts within the range with no activity.
Include History: Default is that report will show only open transactions – check to include all closed transactions.
Click 'OK' to print or 'Close' not to print.