How Do I Record A Supplier Invoice Payment In Foreign Currency?
To record an invoice payment, click menu Daybooks > Cash Book > Payments > Purchase Ledger.
Alternatively, click the Post Purchase Ledger Payments button on the toolbar.
The Post Purchase Ledger Payment Form is displayed.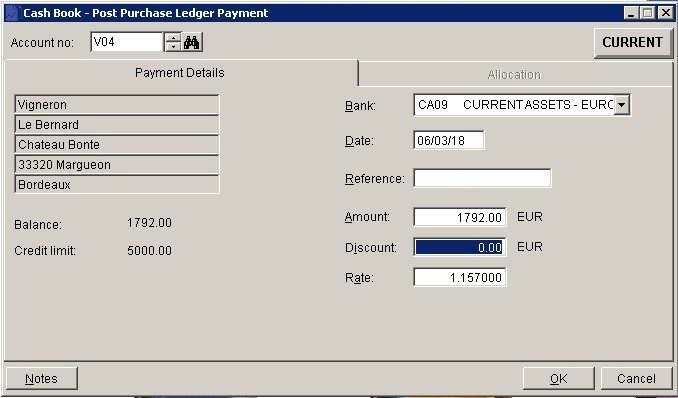 If the bank account is in the same currency – as above – the process is the same as sterling although you may have to create a separate nominal account entry for any bank charges.
If the payment was made out of a sterling account then –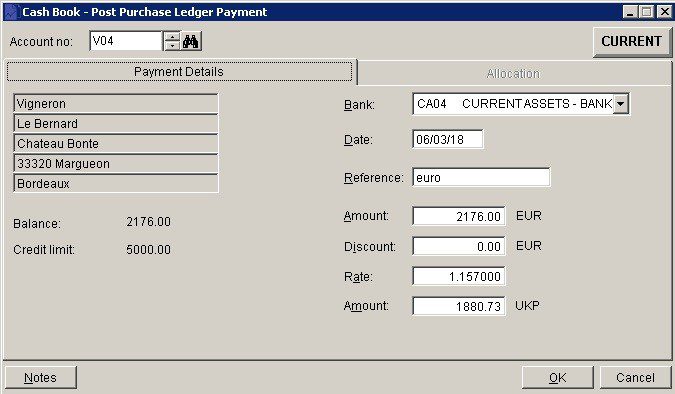 Post the bank charges through menu Daybooks > Cash Book > Payments > Nominal Ledger.
Post the currency amount to the supplier account at the same rate as the purchase invoice – see above.
Post any difference (bank payment – bank charges – sterling value of supplier payment) to the exchange difference account using either Nominal Ledger Receipts or Payments as required.
When reconciling the bank account you will have three entries in the bank account to match the one on the bank statement.